Emerging reflections on harassment and persecution, from Israel and the new resource anthology.
October 25, 2012
I sit this morning, gazing over the Sea of Galilee after a healthy Israeli breakfast, trying to key these thoughts into the computer and ultimately revive the Blog. Yvonne and I are the Holy Land to celebrate our 45th Anniversary and for a five-week sabbatical—writing for me and intercession for her.  We are doing this trip on our own, with a rented car, guide books, the counsel of friends on the ground, and with flexible time to visit, stay, probe, reflect, and then depart from the countless sites.
My mind slips back to yesterday afternoon as Yvonne and I sat on the traditional site where our Lord gave the Sermon on the Mount.  It's really a challenge to dig down through 2000 years of history and layers of sand, rocks, rubble, and very complex political and religious political issues-narratives in order to arrive approximately to where things really happened. But on the Galilean hills just west from ancient Capernaum and up from the Sea, this is not hard to do; so many of them are still as dry, rocky and sparsely covered as in the days of Jesus.
And there we sat in those lush gardens, blocking out the herds of tourists from India, Russia, Thailand, USA, Germany, Slovakia and Japan.  Late afternoon arrived, the shadows lengthened, the tourist-pilgrims faded into their mega buses, and both our setting and time quieted down. Our imagination was released to travel back, to re-read Scripture, to re-visit the Sermon on the Mount, to focus on the Beatitudes, and for me the last two of the nine. Matthew 5:10-11.
Blessed are those who are persecuted for righteousness sake, for theirs is the kingdom of heaven.
Blessed are you when others revile you and persecute you and utter all kinds of evil against you falsely on my account. Rejoice and be glad, for your reward is great in heaven, for so they persecute the prophets who were before you.
Pause and reflect: two out of nine deal with persecution; the term "persecuted" used three times, and two other categories mentioned…"reviling" and "uttering all kinds of evil against you falsely on my account".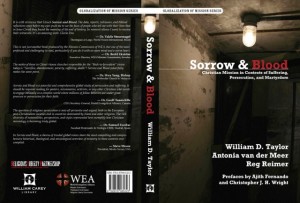 All of this dovetails into the release of the magnificent new resource anthology, Sorrow and Blood: Christian Mission in Contexts of Suffering, Persecution and Martyrdom, (William Carey Library, 2012).  It was my honor to lead the editorial team that included Dr. Tonica van der Meer, Brazilian mission leader and educator and shepherd of great experience, along with Reg Reimer, Canadian missionary veteran and global expert on religious liberty in Viet Nam.  We worked on the book for five years but its conception goes back to the Iguassu Missiological Consultation of late 1999, when the MC leadership was called upon to address issues related to these themes.
So what I want to do in the next series of blogs is to progressively unveil the book and its themes, challenge us to ponder their implications.  It would be great if each of you did get a copy of the book, and began thoughtfully working through it.
But here are some key questions I want to probe in this series of blogs.  While the obvious sources and objects of persecution against Christians are clear in the Global South world (some 250 million believersare unable to fully practice their Christian faith due to the forces of opposition), let's bring the themes home to the Global North.  In what ways have the principalities and powers, the spiritual wickedness in high places, the seductive powers of Satan, the sweet-sour temptations ALREADY come to the Global North.
In what ways have these churches, their pastors, their children, youth and families been apparently inured from the rough edges of harassment and persecution to the point that they would vehemently say, "What? There's no persecution here!!!  We are free to practice or not to practice our faith.  There's no problem here.
Thus two final questions:
First, has Satan already won a massive first victory with this kind of denial?
Second, in how many of your churches has your pastor given a series of 2-4 messages on persecution in the West (Global North) and the cost of following the Cross, "persecuted for righteousness sake"?
This unique publication, Sorrow and Blood, emerges in the fullness of times as the editorial team grappled with challenging questions.  Here were some of them:
What do both Biblical record and church history teach us about these themes?
What does our contemporary global experience say to us? What case studies will help?
How do these themes apply to our servants in bi-vocational (tent-making) or Business as Mission service?
How should we equip both the church and its leadership as well as the global mission movement in light of today's growing harassment, persecution and martyrdom?
Does persecution cause the church to grow or can it kill it?
What will harassment and persecution look like as it grows in the Global North?
How can this book serve pastors who begin to teach on persecution—present and future?
How can we equip both the churches and our future cross-cultural servants to live in contexts where they will face persecution and possible martyrdom?
Do our seminaries, Christian colleges and missionary training centers (whether in South or North) adequately prepare missionaries for this uncertain future?
What do we learn for each other, and how can we pray for and serve each other? How do sisters and brothers in the Global South pray for those in the North, and vice versa?
It was a high point in my writing life when pastor Geno Hildebrant of our former church, Hope Chapel, invited me to speak there October 7 and dedicate the book, with a luncheon signing. What a delight that four other writers were there: Yvonne, Kyle Miller, Robin Harris (artistic editor) and Kelley Magill.
For more information on the book, go to http://www.sorrowandblood.com/index.html
If you might want to dialogue on these issues, there is space following. Try it!
And to all, a strong season of thoughtful reflection and provocative reading.
Ah, the double post script for you
The "free" bonus is a pdf copy of the table of contents of the book. Write to btaylorgc@gmail.com.
The "premium" bonus is the chance to purchase the book at a significant discount.  http://missionbooks.org/williamcareylibrary/home.php