South Africa report and impressions
August 31, 2013
Good friends and global partners,
How can I bottle the majestic glory of Africa's Victoria Falls in a cup?  No, I was not able to visit that magnificent world wonder but it remains a dream of mine.  However that analogy illustrates the challenge as I report on the two-week trip (July 24-August 9) to South Africa.
The marvelous cataract rush of experience, emotions, thinking, preparation, speaking (16 times), face-to-face engagement, and personal mentoring was beyond expectation.
South Africa has powerfully impacted me each time I (alone or the two times with Yvonne) have visited that unique nation. Always at the top of my "preferred nations to visit", this time I discerned again the favor of the living God upon South Africa. Its unique blend of the races, languages and peoples; its incredibly diverse geographies and ecospheres; its global buffet of food (including some of the hottest spices and unusual dishes in the world!); its tangible evidence of the Gospel of God and its power to transform; the irresistible work of the Spirit calling devoted South African Christians to radical mission—within its national peoples, needs, opportunities, and from there spiraling out to the continent of Africa and then to the world.
I was encouraged to hear of the "return of the exiles", a turn-around of the exodus of citizens who post 1994 feared they would not have an opportunity-laden future, and hence left—for England, Canada, the USA, Australia and New Zealand, among many places.  They are returning, in spite of the challenges, and the difficulty of the racial quota system for university studies and careers.  A growing number of thoughtful Black South Africans is concluding that the reverse discrimination—affirmative action—does help them and they want to win on their own merits the right to study and work.
My assignments gave me a packed schedule, thanks to my dear friend Adriaan Adams (of Afrikaans background, married to the very gifted Lydia—daughter of my trusted senior colleagues, Willie and Lydia Crew).  I had spent months in preparation, knowing that I would be stretched.  Thankfully, upon arrival Adriaan told me that the four church speaking tasks had cancelled—to his chagrin and my gratitude!  I was grateful to stay in a quiet guest home where I could retire, refresh, try to sleep and breakfast.
So here were the assignments:
1.  Meeting the Friday evening before the UP mission with their leadership team, sharing some of my journey, the ideas I had for the week as speaker, and then praying. What a remarkable group of students.  I am honored to know them.
2.  Serving as prime speaker five nights at the University of Pretoria annual missions fest.  The U.P has had a historically powerful role in the nation, and some 54 Christian student groups operate on campus—half of them church discipleship ministries. The World Mission Team is a student-led movement (great memories of my early-life-work with Inter-Varsity, another student-led movement).
It was mid-winter, and cold; Tuesday evening I had five layers on my upper body, and students sat with blankets around them to keep warm. The worship team rocked, the dance and music teams were creative, the audience excited, and I knew deep in my bones that God was going to show up.  And He did!  I developed a five-part series with these following components to each talk: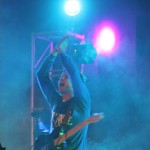 A mission story, most from Africa, illustrating the arrival of the Gospel to Africa, or the price paid to follow this radical new Jesus.  The story then pointed to some key lessons.
An applied Biblical exposition—from Genesis 1-12 through Revelation, progressively revealing the eternal heart and passion of God for his creation, for the nations, for his called-out people and for his Gospel.
A series of five thoughtful questions that we must ask all faith and non-faith systems. Depending on their answer, we can determine which one points to the Eternal Truth of the Living God: the mystery of creation, the human personality, the brokenness (that "sickness unto death) of the human being, beauty and truth, and justice-injustice.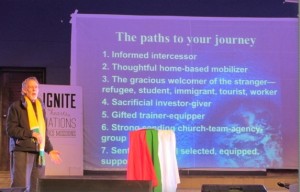 A clear set of take-homes for each night, building as the week went on.
The last night.  Just before dinner with the leadership team, they prayed for me. It was sweet, tender and powerful. I then anointed each with oil (I travel with oil for these cases as they emerge), and asked them to set sentinels on the perimeter of the ampitheatre during the entire 2 hours of the final service.  I was deeply stirred as I spoke, witnessing these young sentinel believers, interceding for their fellow students called to radical discipleship and decision.  I know they stood alongside the invisible perimeter of God's angels, defending against the attacks of the enemy and calling on God to reveal himself.
3.  Engaging with a small team of younger and emerging South African mission leaders as they considered the challenges before them as a generation, engaging and providing mission leadership.  I spoke twice, but it was more just being present, knowing God was doing new things. Adriaan led the sessions, convened by WENSA (the South African mission network) and MANI (the African mission network).
4.  Speaking to church and mission leaders on "Sorrow and Blood: Christian Mission in Contexts of Suffering, Persecution and Martyrdom".  I had taken about 40 copies of the book and all were soon sold.
5.  Speaking in three extended sessions with younger and emerging mission leaders in South Africa. Some of them were members of Adriaan's team at the FTLT, others were students, others from Operation Mobilization SA, others in various vocations, all thoughtful and committed.  My assignment, thanks to Adriaan, was "If you had known when you were 25 what you know now, what would you have done differently?".  Hmmmmmmmm.  That's an interesting spin on my personal history, and it required that I return and review life to see what I would have done.  There were some lessons that could only be learned through experience, simply through maturing, through learning from mistakes.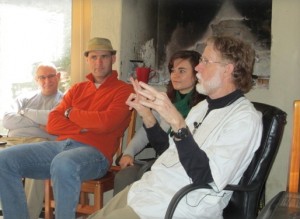 But with the perspective of hindsight, I could tell them things to avoid to look out for, and to incorporate early on.  Some of these lessons were personal or related to marriage; but others were more theological and ecclesiological.
6.  Investing one-on-one, or one-on-two, or one-on-five, those more intimate interactions of life-on-life, of shaping and mentoring.
This probably was my prime purpose in going to SA, and I was thankful upon departure that God had met me, had met us.  It is so clear to me that the hand of God is strongly on some of my younger friends, and I am eager to walk parallel and alongside them as they-we discover and embrace the future.
Whilst in SA I also discovered that God was opening a new dimension to TGC, and that was the creation of a category "TGC Associates", key individuals invited into a more direct relationship with me under the purposes of TGC—to mentor, to shape, to build, to reproduce.  I am certain that God will provide the further wisdom and financial resources to make this happen. Already one case study has emerged and I want to walk into this unique opportunity.
The final full two days were spent with Lydia and Willie Crew, my dear, long-term SA friends.  Nobody has been as generous to us as they have, in the sharing of personal resources and time, in the opening of doors for SA ministry, in the privilege of filming in 2000 a series of lectures that have become part of the "Live School" curriculum—now in English, Russian, Arabic, Farsi, Turkish, Swahili & Korean.  The near future includes French, Portuguese & Spanish.  Example: some years ago a former colleague from Guatemala ministry years wrote me from the Ukraine, telling me that as he entered this small church, he found me teaching in Russian!!!!!  This Live School is a grass-roots but sophisticated program of mission training focused on the less-reached peoples of the world.
I returned exhausted but profoundly satisfied that I was doing what God wanted me to do, that I was in his place of blessing, that I received much more than I gave.
With deep appreciation to each of you, and especially to my South African sisters and brothers.
Bill