Reflections on a desk, mine own, verily, a stream of consciousness……
Reflections on a desk, mine own, verily, a stream of consciousness……
November 14, 2013
My beloved friend my work desk, she is loaded with significant stuff; she sits 180 degrees opposite my computer desk, exactly 29.7/8ths inches away from each other—they sometime talk to each other but they are both humble and made of wood, the computer one of Arkansas oak, sturdy, functional, with no photos this time to reveal its practicality—but it does not talk to me anyway.  My other one, she does.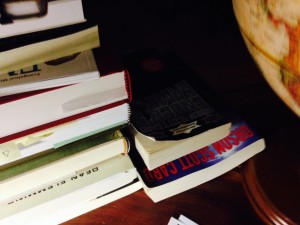 I have a marvelous chair that swivels so smoothly between the two. This evening I was gazing at her with gratitude, with its graceful curves, a diagonal slice (to give strength to the cut) of the original log which I saw in a lumber yard in Guatemala City the year of our Lord 1970, when I was 29 years old and my wife five years less, that was owned by some Italians and asked them if I could buy a slab and they said yes and charged me $8.00 because there was a crack in the heart of the slab and I got my Guatemalan carpenter to fill it with the sawdust of the wood.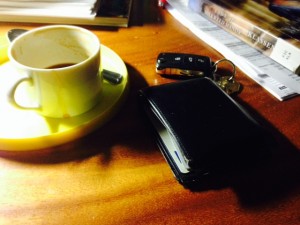 So with a warm heart, I took a photo of it, my hard-working wood friend and fellow-servant-colleague. I estimate that, if I count the yearly rings rightly, it was perhaps some 33 years old when cut from the forests. This noble slab of red ash with the bottom supporting structure and four drawers (that slide so gracefully without metal or whatever makes drawers move today—surely not Ikea) of Guatemalan mahogany, it has stood the test of time, traveled far and wide, following its owner in humble submission.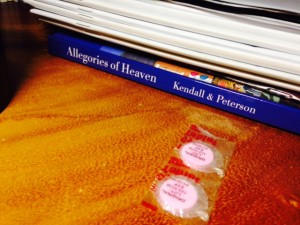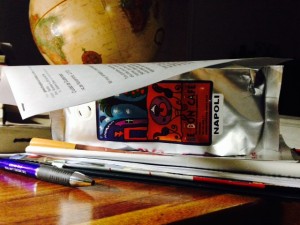 As I contemplate it, I see many things resting on it this evening: my Ott lamp, supposedly saving my eyes; my great world globe, a gift of my family last Christmas; some of Phaedra's unique Celtic cross cards, soon to be used with the gift of some of her encaustics; my newish Mac, a replacement last month of the new lemon I purchased Mac (or do you call it an Apple?) a year ago–stacked on some books, rather precariously; a glass with the remnants of some soda water mixed with weak sangria; my now-empty espresso cup and saucer, the afternoon treat of some wonderful Costa Rican mild coffee; a little blue rubber globe to exercise my trigger finger on the right hand—but I think this actually  gravitates it; a couple of sticky notes telling me what the priorities of today are, and now they graciously slide to tomorrow's list; a file folder under the cards, holding the Power Point and notes from the webinar I just gave today on "Sorrow and Blood" to the Missio Nexus great commission network; a stack of "financial" items I must deal with some day; a shelf of files, books and other stuff that I am supposedly reading; a stack next to it with the same intention; and barely seen, three of the Ender's Game series; my wallet and VW car keys, two priority possessions; a couple of stacks on the right, one concealing some South African coffee, the other with a ESV Study Bible open to the take-no-prisoners little epistle-book of Jude, and a mailer I must put in the post tomorrow with my 40 year old bullwhip, asking my new friend John Stem who is making the new one to see if he can repair this even if it's too short but I can use it to teach the skills to my grandsons—these traditions must be passed through the generations, right?; and under it all, beautiful, natural red-tinted wood that I love to touch, to slowly run my hand over its delicate veins and textures, the top smooth and the underside rough, like it came from the lumber yard that day so many years ago in the middle of the Guatemalan rainy season.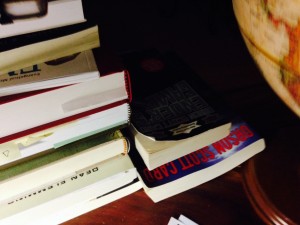 Ah, if the wood could speak, what would it say, having recorded the conversations, and listened into the prayers, and the silent thoughts spoken into the cosmic arenas of the Triune God in a number of countries—Guatemala, her home country; the Northern Tundra's of the USA; the hidden midlands of Arkansas; the Republic of Texas—probably her burial place or we put it in the will to pass to another generation? Who would want her? Ah, they will compete for her, I know!!
Speak, desk, for your owner is ready to listen.  I am quiet.  It is night. Winter has finally arrived in central Texas. Are you an it, or a her?  Hmmmm, these are metaphysical questions of ontology and epistemology, and perhaps a solid dash of axiology—ethics and art.
It's late. These musings must come to an end. And they do!