Converged reflections on MC-WEA years and a beloved mentor
April 21, 2017
Dear family and good friends, partners in God's mission, global colleagues within and beyond the international family of the Mission Commission, World Evangelical Alliance.
Part the First:
Allow me to interweave two themes of recent reflection (my most recent life change as they converge with some comments on my life-long mentor of 50 years, David Howard) as I engage and talk about the major crossroads in my life and ministry; as I open my heart to new dreams and visions; as I gaze into the future, peering at and pondering the mountain ranges before me and their more immediate foothills.
A poignant experience marks the essence and importance of this blog entry. This first draft I sketched out while sitting in a chair, the 8th floor, ICU room 8032 of the Williams Memorial Hospital in Fort Myers, Florida, USA. As I key in these words, my eyes are on my dearest friend and colleague, 89 years old, mentor for 50 years, Dr. David M. Howard—the man who shaped by life so significantly and who invited me into that peculiar world of WEA after his career in Latin America, IVCF-Urbana, Lausanne. He sleeps, numbed from the most recent medical procedure.  I watch and pray, remembering. Next to him, brooding over and caring for him is his beloved wife, Janet, herself a veteran lifer servant whose strongest years were invested in Indonesia.
(Fotos: the two of us circa 1971……facial hair gives date more or less. Dave and Janet (both having lost their first spouse) on their wedding day. In Ft. Myers hospital room).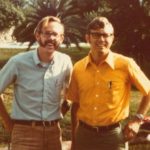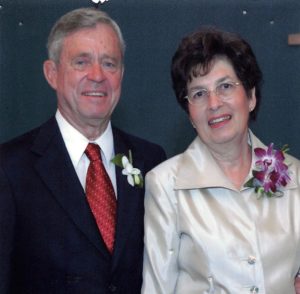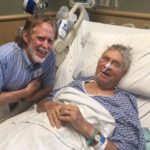 About two weeks before Dave had a serious fall, hitting his head, requiring brain surgery to deal with hematomas and bleeding. He sleeps, this godly, humorous, global citizen of the Kingdom of God in Christ. Janet is away for a break and it's just the two of us.
(Honest to God: I pause because Dave just awoke and said, "Hello Bill!". I'll be back later.)
Shift gears in my changes…..
The prime reason for these transitions comes is marked by the conclusion last December 31, 2016, of my 30 years on the staff team of the Mission Commission, World Evangelical Alliance. But it really started with David.
The October MC 2016 Panama Global Consultation (theme—polycentric mission) celebrated and witnessed another well-done MC leadership transition, from Bertil Ekstrom (a decade serving) to David's installation as executive director of the MC. That was the public announcement and it was a strong, diverse and healthy gathering.
I had started in that position (back then it was called executive secretary—and my first duty under chairman Theo William's was to write the minutes of the MC gathering in Singapore that June 30, 1986) as a naive 46 old with zero knowledge of WEA. I had never heard the terms "network" or "networking" or "synergy partnerships".  But I learned.  I was mentored by Dave Howard (Singapore) Theo Williams (India), Wade Coggins (USA), Stanley Davies (UK), Ray Windsor (New Zealand), Reuben Ezemadu and Panya Baba (Nigeria).  And others.
(Fotos: Dave and wife Phyllis; documents and paper table mats from Singapore, June 1986; WEA 8th General Assembly).
I kept the paper place-mat in the Novotel Orchid Inn in Singapore that breakfast of June 29, 1986, with the very rough dimensions of this new position, names of the then ExCo, and a page from my calendar (the old Seven Star Diary format—pre-electronic stuff….and I have ALL the years of those dates! In my desk drawer!)
And as you see, I have a collected of diverse business cards that mark the seasons, changes of life and modified titles that supposedly gave me identity. I have no card from 1985-1990 (the four desert Russellville, AR years); perhaps I had none. The verticle one is my present one; my NGO ID.
My own MC leadership season came to its healthy conclusion in June 2006 in South Africa when Bertil assumed the position.
(Photos of South Africa 2006)
Last year's transition from Bertil to David put me at a mature age 76. That's three decades serving the MC. That a long time!  One down-side of this new reality means that I no longer will see most of my colleagues and friends face to face, and this may be a loss in part for all of us. Community runs deep and cannot be created rapidly.
(Photos of Panama 2016)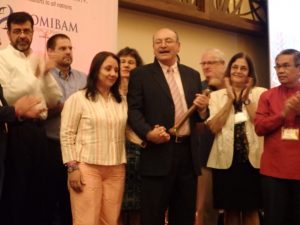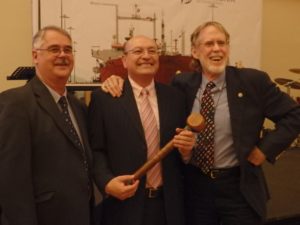 I do continue as an MC Associate, with the privilege of making my annual contribution to keep that unique sea-going, community-network-alliance afloat, especially with David Ruíz as our skipper. In time he will build his crew to serve with singular creativity into the MC's preferred future.
As I gaze into my own future I see the Hand of God, I see release, I see a new chapter, I see diminishing strength, I see myself down-shifting, I see medical offices, I see myself on the latter laps of the race, I see naps. God has indicated to me that I will not climb over this last mountain range set before me; rather, I have heard the Voice saying that I will rest at those foothills, for there and then I will have served my generation and then I shall "permanently change my own address". I see a lot, so hang on until the next entry.
Part II next, retaking the narrative of change and mentors.